"After years of tinkering, he came up with the Foldscope. It's a microscope that comes as a single sheet of thick paper: you snap out the components, fold them origami-style, and thread them together. Ten minutes later, you have a device that weighs 9 grams, fits in a pocket, holds regular microscope slides, and can magnify their contents more than 2,000 times using a small built-in lens. That's good enough to visualize everything from a ladybug's claws to a colony of bacteria. Best of all, the device costs less than a dollar to manufacture" – Ed Yong on Manu Prakash, for The Atlantic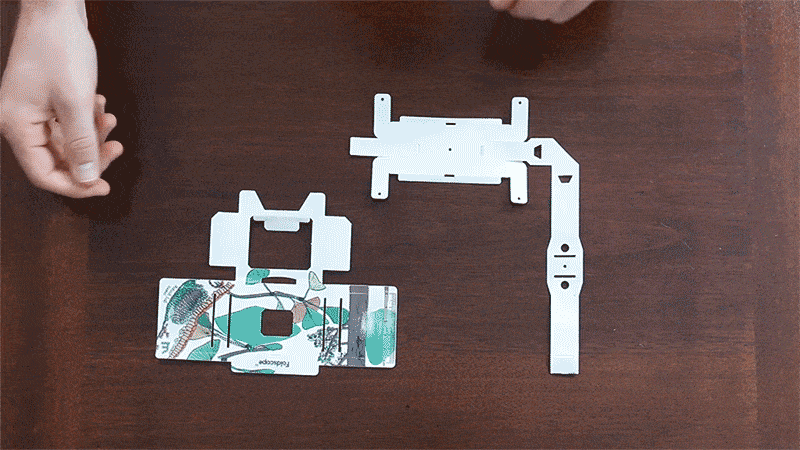 Manu Prakash is the inventor of the Foldscope, a microscope that costs less than a dollar and can fit in your pocket. It can survive humidity and has been used in the rainforest, as demonstrated by one of our intrepid course instructors, Aaron Pomerantz on a recent FPI course on entomology. You can use the instrument in a variety of ways – it can accommodate a make-shift slide, attach to a cell phone for photography and video, and even connect to a light source to project onto a wall for larger viewing audiences.
As Prakash said in an interview with Ed Yong for the Atlantic, "The biggest thing we're trying to do is to make people curious," he says. "Our ambition is that every kid should be able to carry a microscope in their pocket."
Today, Field Projects International wants to make that dream come true. We want to purchase thousands of Foldscopes and send them to students who want them, the world over. And we don't want to limit our efforts by the age of the recipient.
In collaboration with

---
Support the Project
Supporting us might just be the most satisfying gift you have ever given – the most amount of wow for the least amount of money. There are two primary ways to help:
Buy a microscope – you can buy six for the price of an average cup of coffee!
Become a Science Messenger – offer to transport foldscopes on your travels to those in need of them
For fifty cents, you can give someone, somewhere, a chance to view the world in a whole new way – from the cell up.
---
Request a Foldscope Pack
If you are a teacher or a leader of a group of at least 20 people who would LOVE to have foldscopes to explore the world in your backyards in some detail, then you are in the right spot!
Collect the following information:
A photograph of yourself and your group (give your team a name while you are at it!)
One main project idea, or a list of ideas, that you want to use a foldscope to explore
---
Scroll below to lend a hand in the effort to put a microscope in every pocket, or to request a microscope for your pocket!
---
Additional Resources:
Aaron Pomerantz introducing the amazing Foldscope in the Peruvian Amazon
Manu Prakash's TED Talk on the Foldscope:
How to set up and use a Foldscope and evidence of the Foldscope in action, exploring the Microcosmos
If you want a foldscope for yourself (and there's no reason not to have one!), click here to pre-order a kit, due to be shipped out in January – March 2018.